Tuesday, April 28, 2009
Posted by The 25mm Warrior at 9:24 AM
Well nothing really.

Except of course if your using Confederate troops as a test for a uniform color scheme.

My uncle's real passion is historical wargaming. You name the era, the country, the battle he's got it and has done it. He has always been ready to play whatever game I've wanted. Growing up it started with Battletech and moved on to others in the realm of fantasy and science fiction. However I never played anything historical and he never pushed it on me.

Recently (and much with the advent of The Army Painter) I realized I really didn't care what I paint... I just want to play games. I am not a painter, I'm a gamer and with him moving away from me just on the horizon to a new life on the east now more than ever I find myself wanting to spend time with man who stepped in when my own father stepped out. So I went to him and told him I would play whatever... it didn't matter to me.

We chose the American Civil War.

As we sided up (him to the Union, myself to the Confederacy) I remembered a picture I saw of a Death Korp trooper. His uniform was gray and about the folds of the cloth it had a dingy, worn look. So I'm thankful I can try out my color scheme for my expensive Death Korp minis on my not so expensive Confederate troops and I think it turned out just fine.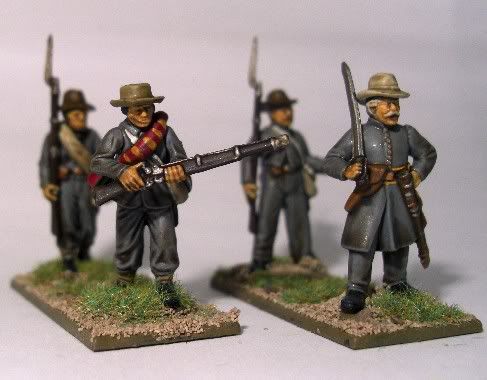 Yeah we got Colonel Sanders from KFC right here baby!



You can see where the army painter makes the gray look dirty. Perfect I think for Death Korp



Used Krylon Matte Varnish on the whole lot of these troops but also on the flag that was cut out from a sheet of plasta-paper. Took the shine right off and you can see how well Krylon matte works just as well as the expensive stuff.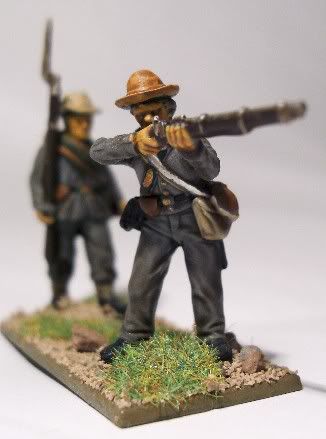 This guys pants turned out just the way I would want for Death Korp troops.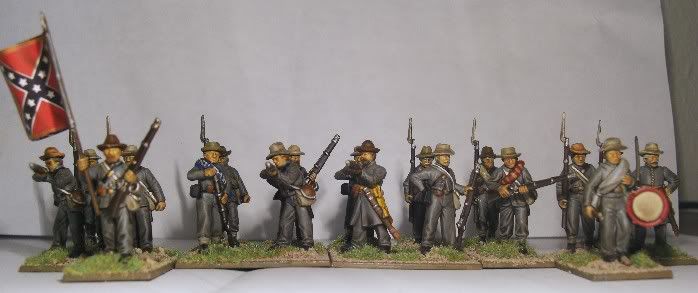 18 troops fully and completely painted and based in three days time. Why people don't use The Army Painter is beyond me.

Also I am happy to report that my first batch of Death Korp is on it's way...