Sunday, March 22, 2009
So here it is! This entire force is a 1000 points (minus the Commander, Opiewan is adding a few extras on him for me) and was painted up in a week and a half. Are the minis some great stinking paint job? No, but they don't suck either. I don't have the patience or time to become some hot shot pro painter. I keep my aims well within my abilities and shot for a force that just looks good on the tabletop.

Every single miniature was done using The Army Painter and that is the reason I was able to get them done so quickly. By using their Red primer and Strong Tone dip I was able to crank out a force fast and get back to the real reason I got into 40k in the first place...

To play the friggin game

The Brave Brothers of 4th Squad under the leadership of their Brother Sergeant Pelanios. Blood Angel 4th Squads are identified by the Blood Drop on there knee



1st Squad pauses for a moment with their Brother Sergeant Rythan. Blood Angels 1st Squads are marked by the Skull with a black kneepad.



10th Squad Devastators lead by the Emperors servant, Brother Sergeant Cassian
Blood Angels 10th Squads are identified by a black wing on a yellow kneepad (I'm not much of an artist :)



Terminators, the Emperors finest, headed by Terminator Sergeant Veladis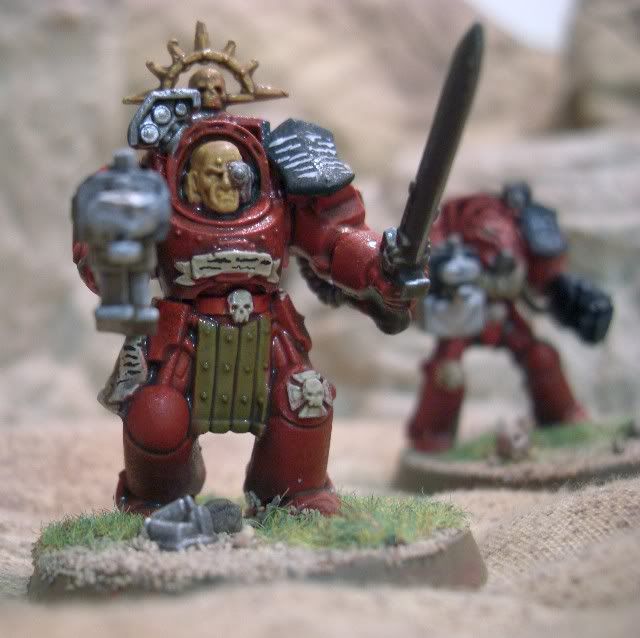 Holy Predator Invigilius, 2nd company tank of the Blood Angels 2nd company. The 2nd company badge is a yellow blood drop.



The Annialutium, Revered Razorback assighned to the 10th Devistator squad Cassian



Encased in his battle tomb, Brother Theodyne lives on to fight at the side of his Emperor for the good of Mankind



Well there you have it, my Blood Angels army. I'll post the Captain when Opiewan is done making him look cooler. Also I'll get up my actual list for you all to pick apart. Anyway I hope you enjoyed it and thanks for looking. As always constructive (and destructive:) criticism is always welcome.

FOR THE EMPEROR!!!