Tuesday, June 22, 2010
Posted by The 25mm Warrior at 3:08 AM
What do you get when you cross a little boy, season one of "G.I. Joe" and temporary tattoos... all near fathers day?

Gold, that's what!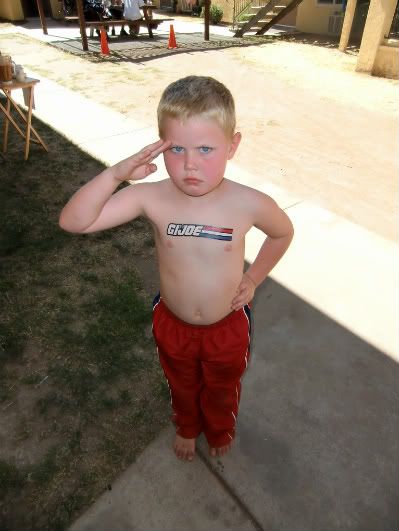 How could I resist? Oh we didn't stop there. The boy had to be turned into a double agent!




Man, being a parent friggen rocks!

In case you were wondering my son is the best miniature I've ever made and he and my babies mommy did their best to make my fathers day awesome! My boy gave me this...


Of course as a parent I love anything he makes me. This one is right at daddy's work station :)

My wife continued to spoil me by letting me run amuck at the Games Workshop site! (within reason of course). Since I had been eying the new templates for Warhammer Fantasy I decided to get a set of Counters, Range Finder and Blast Templates. I almost pre-ordered the book but Opie-Wan's Jedi like wisdom prevented me. While the book looks awesome it's also bloody HUGE! Really, it's like a friggin weapon itself! Big tomes like that are unwieldy during game play. I'll just hold out for the boxed game when I get my hands on a nice miniaturized version of the rules... Oh who am I kidding. I'll eventually buy the big stupid rule book too cuz I'm that gamer ya know?

My fathers day didn't stop there though...

When I went over to my parents house to drop off my dad's gift and pay him a visit my folks gave me a gift of my own...


This one surprised me. My parents don't even know what Warhammer 40k is. They took my Uncle with them and he picked em out. That was really sweet of them to do that and it taught me a lesson too; No matter what your kids are into, at any age, you have to support them in what they're interested in and love. I hope my boy becomes a gamer and dread the day he becomes involved in sports but if that's what he decided to do, then I'm now a sports fan.

I'm truly spoiled. Thanks babe for a great day. Mom, Dad, I love you and I try to live up to the example of parenting that you taught me. And to my Mr. Boo's who made me the best picture frame ever! Thanks you boy! I love you and am so proud of you... YO JOE!!!

Surely goodness and mercy have followed me all the days of my life.