Wednesday, June 9, 2010
Posted by The 25mm Warrior at 2:06 AM
A huge box showed up on my doorstep yesterday and as I franticly opened it up I was excited to see this...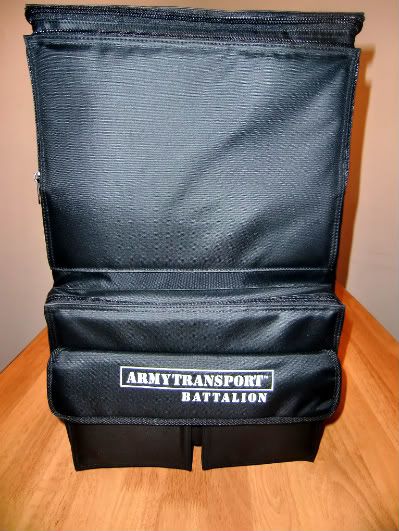 There was a big struggle for me in choosing between Sabol Designs Army Transport and Battlefoam cases. I settled on the above for three reasons. First, Battlefoam is extremely expensive for what it does and The Army transport is really the better value. Second, the above configuration completely holds my 1000+ point Imperial Guard force (which is sizable, as you'll see below). Battlefoam, for the same price would not have held it. Now third, and most important, The Army Transport above has a handle and wheels. Nowhere in the Battlefoam product line do they have a transport that offers that kind of convenience and what a much needed convenience it is. I walk with a cane and it's awkward to lug around a huge bag. This bag makes it easier for me to get out and game at the game store if I want to.

Sabol Designs Army Transport won hands down (and the black is cooler looking too).

I haven't done a muster pic of my Imperial Guard yet (I'd like to save that for when the whole thing is painted) but you'll get an idea of just how much this Army Transport holds. Not to mention that if it can hold an Imperial Guard army it will hold any other as well. Here it is in action.

Two inch foam trays for infantry.



Three inch foam trays for walkers and light tanks.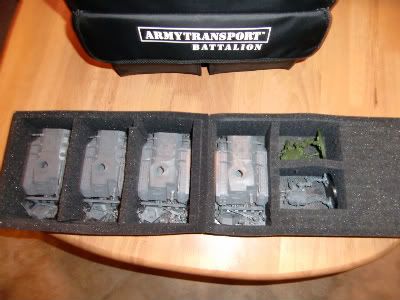 Four inch foam trays for big ass tanks.



Now my armies are comfortably mechanized and I can go anywhere with them. I can even load up my paints in the trays and paint wherever I want. The added space for storage is welcome and compared to Battlefoam it didn't break the bank. To top it all off it shipped quick too!

It's awesome when you get a great buy with a great product from a great company. I even got this at a discount because they have new deals every month!

You can see Sabol Designs The Army Transport website here.