Tuesday, April 27, 2010


You can be jealous... it's cool.

I'd be jealous too if someone found one of these puppies sealed.

That's right... I said SEALED! For a mere sixty bones I scored this incredibly rare find. Every now and again you'll find a copy on Ebay but usually it's missing pieces, someone spilled their coffee on the rule book etc. Not this one. I had the pleasure of tearing off the shrink wrap that had entombed this gem for over twenty three years! Check it...


I carefully pulled back on the price sticker to reveal something truly amazing. This alone was the final evidence that I had my hands on an actual unopened copy of the game.


See in the top left? The nine is mostly blurred out but that is a price sticker from 1987! I wonder (with the changes in the dollar) what twenty bucks back in 1987 is equivalent to today? Even the back of the box spoke in concert to the price sticker, singing a song that is over twenty years old.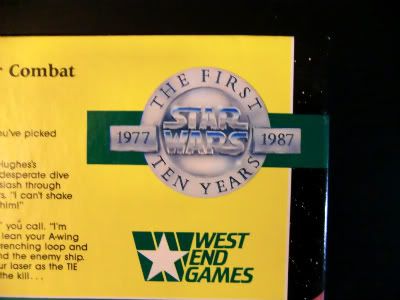 Man I'm never tossing that wrap... EVER!

Opening that box was nothing short of awesome! The box had within in it the ancient sent of an old library as I carefully removed the lid. The box had been dented over the years and has no rips or tears except for a minor fray on the upper left corner.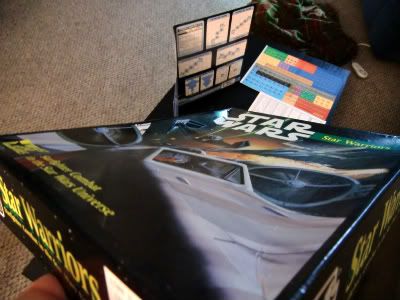 The inner box had a bit of warping on the side showing how the years have folded it inward slightly.



It was plain to see this sturdy box (it feels thicker than most modern game boxes) had done it's job as all the contents are preserved damn near perfectly (the only problem I saw was a tiny tear in the map at one of the fold lines... damn entropy). Everything is still vibrant and crisp and looks brand stinkin new.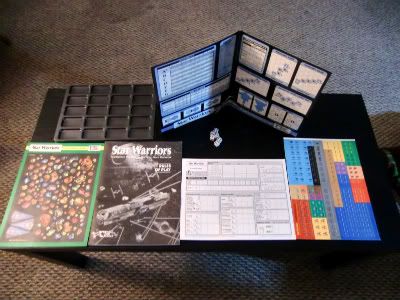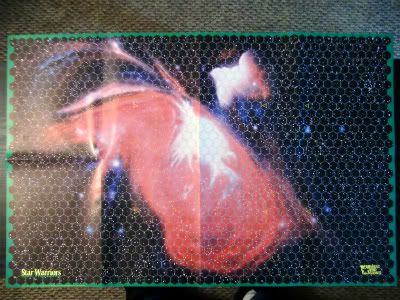 The West End Games send away card made me sad. That company truly did the Star Wars licence justice back in the day. Their D6 System is still one of the best RPG systems... period. Shame they are nothing like they once were.



I don't think I can bring myself to use the components of this game. With the advent of pre-painted mini Star Wars ships from WOTC it's not going to be hard to make this into a rockin table top experience (especially sice WOTC Star Wars Starship battle suck ballz) while preserving the components for all time!

At least until my six year old gets his hands on it...